How to get rid of acne?
Everyone gets the odd pimple in life. However, full-blown acne can impact self-esteem. Teens and adults alike should control acne to reduce the risk of permanent acne scars. Find out how to help treat and prevent acne.
What is Acne?
Acne is a skin condition that appears in a number of forms, such as comedones (blackheads and whiteheads), papules, pustules, nodules and cysts. Acne is caused by excess sebum, an oily substance produced by the sebaceous glands. Sebum hydrates the skin and keeps it supple.
Acne most commonly appears on the face, back, chest and arms.
What Causes Acne?
Several factors may make you more likely to develop acne:
Family History: If your parents or siblings had acne, you'll be more at risk of getting it too.
Puberty: During adolescence, the body produces more sex hormones. For example, in boys, testosterone stimulates the production of sebum and the formation of sebaceous glands.
Hormonal variations in women: For some women, hormonal changes can trigger acne flares around the time of their menstrual cycle and at during different stages of their lives such as pregnancy or menopause.
Strong emotions: When we are stressed for example, a larger amount of cortisol (stress hormone) gets released which increases oil production and inflammation.
Sweating: Excessive sweating can make acne worse in some people. For example, after a workout, the mix of sweat, oils and bacteria released from your body will soak back into the pores if you do not shower right after and will increase the chance of your pores becoming clogged.
Dry skin: When your skin lacks moisture, it is easily irritated and reacts by increasing sebum production.
Does junk food cause acne?
Contrary to popular belief, no scientific studies have shown a link between acne and eating chocolate or fatty foods like french fries or potato chips. However, you should still adopt a healthy lifestyle and eat a balanced diet for overall health.
Tips and advice to get rid of acne
By avoiding acne triggers and adopting the following daily skin care routine, you can better control your acne.
Skin hygiene
Cleanse your face at most twice a day with either water alone, a soapless cleanser, or a mild soap that is non-irritating and unscented. Avoid washing your skin too often, rubbing too hard or using an exfoliant, as irritation can aggravate acne.
After cleansing, apply a noncomedogenic moisturizer if you need one. These moisturizers will not clog your pores. Use lotions if you have oily skin and creams if you have dry skin.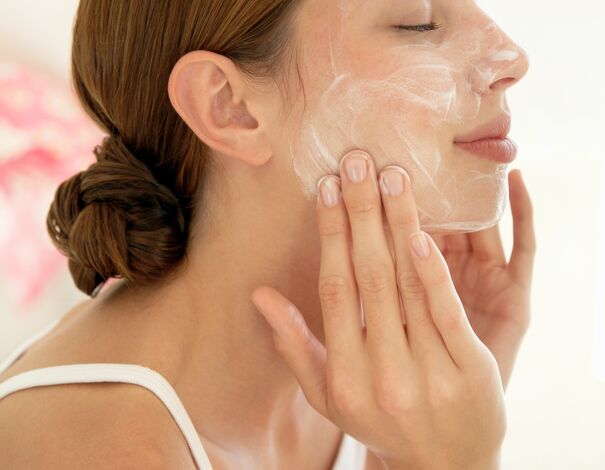 Don't touch your pimples or blackheads, as you might make them worse. Tip: Count the number of times you touch your face in a day to help you get rid of this bad habit!
Body hygiene
Wash your hair regularly, particularly if it tends to be oily.
Tie your hair back from your face, especially when you sleep.
Cosmetics
Try to avoid using makeup regularly.
Avoid using oil-based cosmetics, which can include concealers, liquid foundations, hair pomades, hair oils, hair sprays, etc. Instead, look for products that say "oil free" or "non-comedogenic".
Always remove your makeup at the end of the day.
Put makeup on last after applying a moisturizer. If you are using a topical acne treatment, apply it before the moisturizer so it has direct contact with the affected skin.
Apply sunscreen after topical acne medications have dried and while you are taking oral acne medications because they may make your skin more sensitive to the sun.
Talk to your pharmacist for the most effective regimen if you are also using acne medication.
Shaving
Shave your beard in the direction of hair growth, and try to shave less often. Don't shave the same area more than once. Be sure to moisturize after to prevent the skin from cracking or peeling.
The information contained herein is provided for informational purposes only and is not intended to provide complete information on the subject matter or to replace the advice of a health professional. This information does not constitute medical consultation, diagnosis or opinion and should not be interpreted as such. Please consult your health care provider if you have any questions about your health, medications or treatment.