How to Avoid Allergies at Home
If you suffer from allergies at home caused by indoor allergens (e.g., dust mites, pet dander or hair, or mold), you should strive to reduce your exposure to these allergens. You can prevent allergy symptoms from manifesting themselves with lifestyle changes, hygiene habits or products against household allergies.
Here are a few helpful tips to help you improve indoor air quality in your home.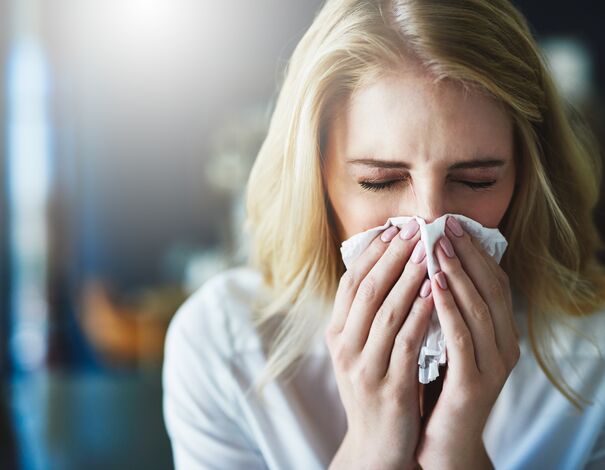 What are the most common allergens in my house?
The most common allergens present in your house are:
Here are some advice to help decrease this pollution in your home:
At least once a year, have your home's air ducts cleaned or change the filters on your central air filtration, hot air heating, or air conditioning systems.
If you use a portable air purifier, make sure it is fitted with high efficiency particulate air (HEPA) filters. Clean or change filters regularly.
Opt for wood, tile, or linoleum flooring and genuine or synthetic leather furniture, as they do not trap allergens. Otherwise, vacuum carpets and upholstered furniture at least once a week and have them cleaned on a regular basis.
Vacuum the entire house at least once a week.
Use a vacuum cleaner equipped with a high efficiency filter, and change the filter regularly.
Do not smoke, and avoid second-hand smoke, including vaping smoke.
Aggravating factors of indoor allergens
It is important to remember that resistance to allergies differ from one person to another. However, studies show that in general, young children, teenagers, seniors and pregnant women are more vulnerable. Certain aggravating factors can complicate things especially if you suffer from a respiratory allergy. Some aggravating factors are:
Pollution
Tobacco Smoke
Cleaning sprays other chemical or toxic substances
Dust and closed areas
Stress
These factors can make certain respiratory diseases such as asthma and rhinitis even worse, or cause allergic reactions (skin reaction and otherwise), such as:
Conjunctivitis (Pink Eye)
Urticaria (Hives)
Eczema
Skin Rash
Itching
This is why it is incredibly important to reduce exposure to these allergens and factors.
How to prevent allergies at home?
Dust Mites
Encase mattresses, box springs, and pillows in mite-proof covers.
Wash sheets, pillowcases, and blankets weekly in hot water, and tumble dry on "high".
Opt for washable curtains instead of blinds, and wash them regularly.
Avoid plush toys where possible. Otherwise, opt for machine-washable toys.
Mold
Keep the moisture level in your home below 50%. If necessary, use a dehumidifier.
Run the bathroom fan every time you take a shower or bath.
Clean your fridge regularly. Do not allow mold to form on foods.
Clean the bathroom regularly, and pay special attention to windows and shower curtains.
Clean garbage cans and recycling bins regularly.
Pets
If you are allergic to cats, dogs, or any other pets, it's best to avoid having any in your home. If you have a pet you're allergic to, the best solution for your health would be to try to find another home for it.
If you decide to keep your pet, make sure to follow the general advice listed above, and don't let the pet in your bedroom. Avoid touching it, if at all possible, and wash your hands immediately after any contact.
These steps can go a long way to improving your quality of life. Give them a try! Your pharmacist can provide advice on allergy-relief products. Do not hesitate to discuss your situation.
The information contained herein is provided for informational purposes only and is not intended to provide complete information on the subject matter or to replace the advice of a health professional. This information does not constitute medical consultation, diagnosis or opinion and should not be interpreted as such. Please consult your health care provider if you have any questions about your health, medications or treatment.