INHALED MEDICATION: IT'S ALL ABOUT TECHNIQUE
If you use inhaled medications to treat asthma or lung disease, it is important to follow certain guidelines to ensure you are getting the full dose of medication each time. Studies have shown that most people who use inhaled medication make at least one mistake that can affect the dose they get.
Types of devices
There are various types of devices used to deliver inhaled medications. They are divided into two categories:
Metered-dose inhalers that use an aerosolized system to deliver a dose of medication
Dry powder inhalers that rely on your inhalation to deliver the medication
Inhalation techniques
While the devices must be prepared in different ways, once they are ready for use, the inhalation technique itself is similar for all the devices:
Load your device to deliver one dose, according to your pharmacist's instructions.
Breathe out as much air from your lungs as you can, without it causing discomfort.
Place the mouthpiece of the device in your mouth. Seal your lips firmly around the opening.
Breathe in deeply.

If you are using a metered-dose inhaler, you will need to release the dose and breathe in at the same time.

With dry powder inhalers, the dose is released simply by inhaling.

Hold your breath for as long as possible, without it causing discomfort (about 5 to 10 seconds).
Breathe out, ideally through the nose, keeping your mouth closed.
Rinse your mouth. This step is especially important for corticosteroid medications, but you can do it for all your inhaled medications.
If you need to take two doses of a medication, wait approximately one minute between puffs.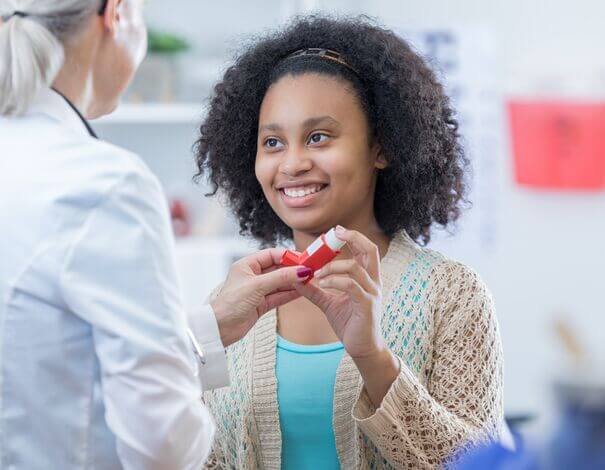 Dose counter
Many devices have an indicator or dose counter that shows the number of puffs they contain, which is convenient as it shows when you will need to renew them. However, some metered-dose inhalers used as quick-relief medication do not. In this case, it is crucial to keep track of the doses you take so you don't find yourself in an emergency situation with an empty inhaler. You can keep track of the doses using a logbook or an app on your smartphone. Some people stick a piece of tape on their device and draw a line on it each time they take a dose. It doesn't matter which method you choose, so long as you use one!
An inhaler device that is used improperly can lead to sub-optimal treatment. If you are having trouble using your device, be sure to talk to your pharmacist. Have your pharmacist check your technique at least once a year. He or she can give you pointers, as needed.
The information contained herein is provided for informational purposes only and is not intended to provide complete information on the subject matter or to replace the advice of a health professional. This information does not constitute medical consultation, diagnosis or opinion and should not be interpreted as such. Please consult your health care provider if you have any questions about your health, medications or treatment.