Seasonal Allergy Peak Times
Seasonal allergies are caused by pollen from all kinds of plants. It is estimated that between 20% and 25% of Canadians suffer from seasonal allergies. Since pollen is produced by plants at a specific time in their life cycle, if you know which pollen you are allergic to, it is possible to predict when there will be more of it in the air. Read on to find out if your symptoms could be linked to seasonal allergies.
What causes seasonal allergies?
Seasonal allergies are mainly caused by pollen that is released from trees, grasses, and weeds. Pollen is a fine, powdery substance discharged from the plants when they reproduce.
Pollen grains are minuscule, and practically invisible to the naked eye. When they are released by a tree or plant, they remain suspended in the air for a certain time, and can be breathed in. In people who are allergic to pollen, this can trigger an allergic reaction and allergy symptoms within hours of exposure.
Which plants cause seasonal allergies?
Many trees release pollen that can cause seasonal allergies, including maple, willow, birch, ash, pine, oak, elm, poplar, and alder.
Some species of these trees are common throughout Canada (with the exception of Nunavut), while others are present only in certain regions. For example, while white birch can be found in every province and territory, white ash is present primarily in eastern Canada, and Douglas maple is most common in Western Canada.
In addition to several wild grasses, the grasses commonly found in lawns, including Bermuda grass, ryegrass, and bluegrass also cause seasonal allergies.
The weed that causes the most seasonal allergies–ragweed–is found across Canada, and is a prolific producer of pollen. A single plant can discharge over a billion pollen grains in one season! One in five Canadians are allergic to ragweed pollen.
When is pollen season and how long does it last?
In most provinces, pollen can be found in the air as soon as the trees reawaken in the early spring, and can persist right up to the time the frost kills the last ragweed plants in the fall.
The exact timing of the release of pollen varies from one plant to another and from one region of Canada to another, due to differences in climate. In milder Canadian climates, some trees can release pollen as early as January or February, while ragweed plants can continue producing pollen through December. In more northerly regions, pollen production may begin later and last for a shorter period.
Typically,
tree pollen season starts in early spring and lasts until the beginning of summer,
grass pollen season starts in late spring and stretches into September, and
ragweed season starts in August and lasts until the first frost.
The duration of allergy season depends on the pollen causing your allergies. If you are allergic to only one specific plant, your symptoms will be limited to the period during which its pollen is released, for example, in April and May for certain trees. However, if you have allergies to several plants, your symptoms can stretch over a number of months if their seasons overlap, or may reoccur at different times during the year.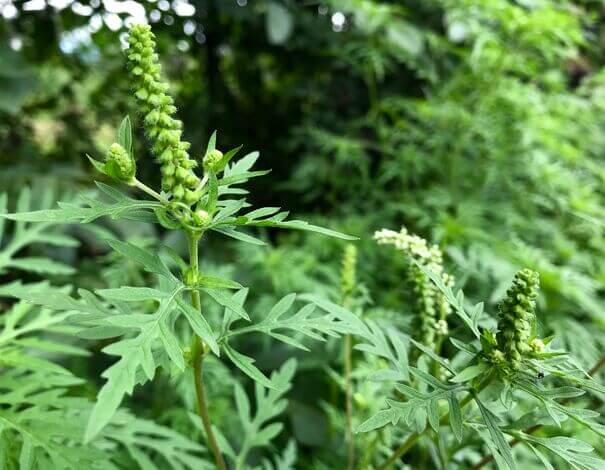 Is it important to know what pollens are causing my allergies?
If your symptoms are mild, you may find it enough to simply treat them as needed. However, in some cases, people who have severe symptoms or who suffer from asthma are advised to begin treatment as early as possible, ideally before the onset of symptoms.
While it may be possible to deduce that you are suffering from seasonal allergies, ideally, you should undergo an allergy test to identify the exact pollen or other allergen causing your allergies. With that information in hand, you can then determine when that particular pollen is likely to be present in your area, take measures to avoid the pollen at those times, and begin treatment before symptoms make your life miserable.
How can I reduce my exposure to pollen?
The best way to avoid an allergic reaction is to stay away from the allergen that makes you sick. Of course, in the case of seasonal allergies, it is impossible to avoid pollen altogether, but it is possible to reduce your exposure during allergy season.
Pollen counts tend to be higher in the mornings and on hot, windy days with no precipitation, meaning they are often lower on cool, wet days. Many weather forecasting services provide information on the presence of pollen in the air (pollen forecasts or allergy outlooks), which can be helpful when planning your outdoor activities. However, be aware that these forecasts are not perfect, since they are based on information from reporting stations that may be located a long way from where you are.
In addition to planning your outdoor activities accordingly, there are a number of other ways to reduce your exposure to pollen:
Keep house and car windows and doors closed, to prevent pollen from getting in.
If you have an air exchanger, clean the filters regularly, as they can allow pollen into your home.
After outdoor activities, take a shower or bath to get rid of pollen that may have settled on your hair, skin, or clothes. Change into different clothes and shoes.
Use a vacuum cleaner equipped with HEPA filters to trap fine pollen particles that may have made their way into your home. Change filters regularly.
Do not hang your clothing or bedding outside to dry.
Let someone else mow the lawn and do the groundskeeping work if you are allergic to grasses.
Learn to recognize ragweed, and pull it out before it flowers.
Practice regular nasal hygiene using a saline solution to eliminate pollen that may have made its way into your upper respiratory tract.
There are several types of prescription and over-the-counter medication
available to ease seasonal allergy symptoms. Ask your pharmacist if you need help choosing one that's right for you.
If your allergies are very bothersome, you may want to consider undergoing desensitization treatment for some of the most common respiratory allergens. For more information on this treatment, talk to your heath professional.
When it comes to seasonal allergies, your pharmacist is there for you!
Don't let seasonal allergies spoil your outdoor activities. Ask your pharmacist about the solutions that exist to ease your symptoms. In some provinces, pharmacists are allowed to prescribe medication for seasonal allergies. Be sure to ask yours for advice.
The information contained herein is provided for informational purposes only and is not intended to provide complete information on the subject matter or to replace the advice of a health professional. This information does not constitute medical consultation, diagnosis or opinion and should not be interpreted as such. Please consult your health care provider if you have any questions about your health, medications or treatment.