Smoking Cessation Aids: Help to Quit for Good!
Have you decided to quit smoking? Congratulations! Many will tell you that it is a big challenge, but it is actually a great challenge! You will quickly feel the benefits and your health will gradually improve.
There are several ways to quit smoking, but no quick fix. You need to find the one that works best for you. For many people, using a medication to quit smoking increases the chances of success. They reduce withdrawal symptoms and some decrease cravings. Thus, they reduce the risk of relapse.
Double or triple your chances of success with smoking cessation products
The effectiveness of smoking cessation products is well established. When used correctly, they are safe and non-addictive. Experts recommend that all smokers who want to quit and have no contraindications should use them to increase their chances of success.
Two categories of treatments are available on the market: nicotine replacement therapies (NRT), which include nicotine patches, lozenges, gum, vaporizers and inhalers, and prescription drugs that do not contain nicotine.
According to the results of several clinical studies, the use of NRT or non-nicotine medications can double or even triple the chances of success, especially when combined with cessation services.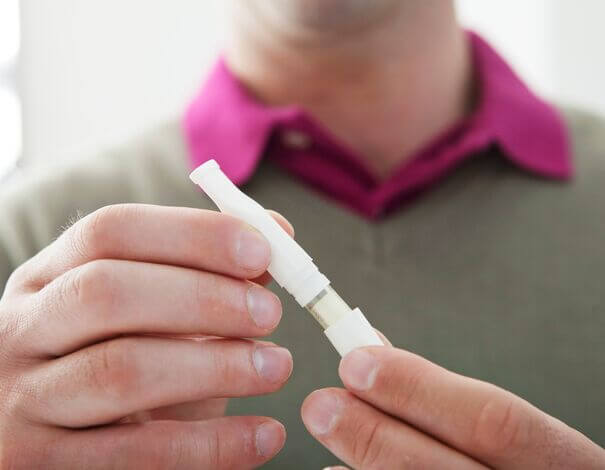 What type of treatment should you choose to quit smoking
Nicotine replacement therapies (NRT)
NRT reduces cravings by delivering a controlled dose of nicotine to your body. They help better control withdrawal symptoms and gradually reduce the amount of nicotine your body is exposed to. They come in a variety of forms, some of which can be used in combination :
Patches
Gum
Lozenges
Inhaler
Vaporizer
The patches release a constant dose of nicotine into the body through the skin throughout the day. They come in three strengths (21 mg per day, 14 mg per day and 7 mg per day). The initial concentration is determined by the number of cigarettes smoked per day. For example, people who smoke 10 or more cigarettes a day usually need the 21 mg dose to start. The dose can then be gradually reduced.
Patches should be applied to a clean, dry, healthy, hair-free area of skin from the waist to the neck, such as the chest, upper arms, or back. To reduce the risk of skin irritation, avoid reapplying patches to the same area.
For maximum effectiveness, the patches should be worn for 24 hours. This allows you to better control the cravings that sometimes occur in the first 30 minutes after waking up. However, it is possible to remove them at bedtime if the treatment causes insomnia or strange dreams.
If you have breakthrough cravings despite wearing a patch, you can also use a quick-acting NRT (e.g., gum, lozenges).
Nicotine gum contains a small dose of nicotine that is quickly absorbed by the lining of the mouth. It can be used as needed to reduce the urge to smoke, or more regularly every one to two hours as needed. You don't chew nicotine gum like regular gum. To release the nicotine from the gum, it must be chewed several times until a strong taste or tingling sensation is felt in the mouth. Then the gum is placed between the cheek and gum until the taste or tingling disappears. This cycle is repeated for 30 minutes, then the gum is discarded as it no longer contains nicotine. Gum can cause irritation in the mouth, jaw pain, heartburn, hiccups, or nausea. They can also stick to dental appliances.
Nicotine lozenges can be used in the same situations as nicotine gum. They are placed between the cheek and gums and sucked slowly until completely dissolved. They work a little faster than nicotine gum, do not stick to dental appliances and do not need to be chewed. They may cause mouth irritation, heartburn, hiccups, or nausea.
The nicotine inhaler releases nicotine vapour from the cartridge inserted into the device. Nicotine is absorbed into the bloodstream through the lining of the mouth and throat. Some people like this device because it keeps their hands busy. It can cause irritation of the mouth and throat and is not a good choice for people with asthma because it can cause bronchospasm.
The nicotine vaporizer produces a fine mist containing nicotine. It is best not to swallow your saliva for a few seconds to allow the nicotine to be absorbed. Do not inhale when spraying the product into your mouth to prevent the mist from settling in the throat.
Non-nicotine drugs
Non-nicotine medications, such as bupropion and varenicline, work differently than NRTs.
Bupropion is an antidepressant that reduces the breakdown of neurotransmitters, such as dopamine and norepinephrine, in the brain. These two chemical messengers are thought to play a significant role in the withdrawal symptoms experienced when trying to quit smoking.
Varenicline acts on nicotinic receptors which are sensitive to acetylcholine, another neurotransmitter in the nervous system. It has a dual mechanism of action: by activating these receptors, it produces a weaker physiological response than that produced by nicotine, thus reducing withdrawal symptoms and cravings. On the other hand, it prevents nicotine from binding to these receptors, thereby reducing the release of dopamine. Dopamine is strongly involved in the development of addiction and maintains the positive effects associated with nicotine consumption. In a sense, varenicline breaks the vicious circle of tobacco addiction.
Which is better? NRT or prescription medications? This should be discussed with your healthcare provider who will recommend the most appropriate treatment based on your medical condition, your medications, and your response to products you may have tried in the past.
Your pharmacist can help you!
Do not hesitate to discuss your concerns about quitting smoking with your pharmacist. They are there to support you throughout the process. If you need help, they can recommend a smoking cessation aid or support program tailored to your needs.
In most provinces, pharmacists can prescribe smoking cessation treatments for people who meet certain criteria.
Smoking cessation treatments are usually reimbursed by drug plans. However, there may be limits on the number of weeks of treatment that will be reimbursed or on the maximum amount that will be reimbursed per year.
The information contained herein is provided for informational purposes only and is not intended to provide complete information on the subject matter or to replace the advice of a health professional. This information does not constitute medical consultation, diagnosis or opinion and should not be interpreted as such. Please consult your health care provider if you have any questions about your health, medications or treatment.