Hay Fever: Causes, Symptoms, and Treatments
Runny nose? Itchy eyes? Tickly throat? You may be suffering from hay fever. Read on to find out more about this very common allergy.
What causes hay fever?
Hay fever, also referred to as a seasonal allergy or allergic rhinitis, is an inflammation of the mucous membrane of the nose, sinuses, and eyes.
Hay fever symptoms are the result of an allergic reaction caused by contact with pollen released from various plants. Since pollen grains are very fine, they remain airborne, and can get into your respiratory system when you breathe. For most people, pollen does not cause any symptoms. However, in people with allergies, their immune system mistakenly considers pollen a foreign substance that must be destroyed, and triggers a chain reaction to fight off the "intruder." This is what causes symptoms typical of hay fever.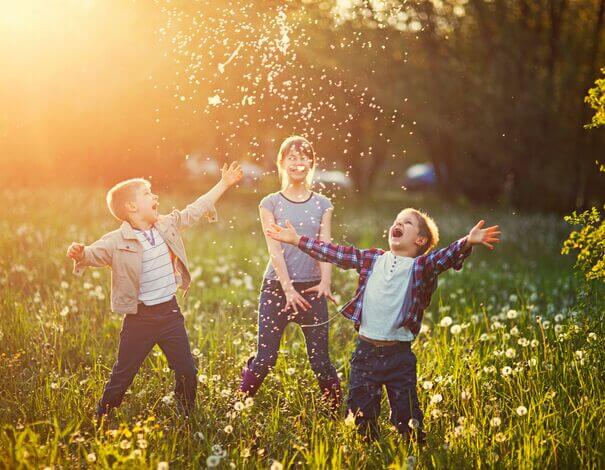 What are the symptoms of hay fever?
It is easy to confuse the symptoms of hay fever with those of the common cold, as they can be very similar.
| | Hay Fever | Cold |
| --- | --- | --- |
| Runny nose (nasal discharge) | Watery (clear), can sometimes become thicker | Thick (white, yellowish, or greenish) |
| Nasal congestion | In both nostrils | In one or both nostrils |
| Sneezing | Often, serial | Sometimes |
| Itchiness | Nose, throat | No itchiness |
| Red, watery, or itchy eyes | Often | None |
| Cough | Sometimes, especially if the person is asthmatic | Often |
The context in which your symptoms are triggered can help determine whether or not it's hay fever that's causing them. Hay fever appears at specific times each year when pollen from the plant you're allergic to is released into the air.
How long does hay fever last?
Since hay fever is an allergic reaction, its duration depends on your exposure to the pollen you're allergic to. While some plants release pollen for a few weeks, others, including ragweed, can release pollen for months.
If you're experiencing hay fever, the best thing to do is to go for allergy testing to find out exactly which plant(s) are causing your allergy. Once you know that, you can anticipate the periods when pollen will be present and take steps to reduce your exposure.
What can I do to avoid being exposed to pollen?
It is virtually impossible to avoid exposure to pollen altogether, since it is present in the air you breathe. That said, there are steps you can take to reduce your exposure.
Keep your windows closed at home and in your vehicle. Change the air filter in your vehicle on a regular basis.
Avoid outdoor activities early in the morning (before 10 a.m.) on windy or dry days, when pollen counts are high.
When you come in from an outdoor activity, change your clothes and take a shower. Wash your hair, as pollen tends to cling to it.
If possible, have someone else mow your lawn and care for your flower beds. Otherwise, wear a mask when doing these tasks.
Do not hang your laundry out to dry.
Learn to recognize ragweed, and pull up any ragweed plants you find growing in your neighbourhood.
Check weather forecast websites for information on pollen counts.
How can I relieve my hay fever symptoms?
A number of products are available to help relieve your symptoms. The most suitable product depends on the severity of your symptoms and your overall health.
Nasal irrigations and saline sprays are very helpful for cleansing the nose and sinuses and reducing nasal congestion. They also have the advantage of being suitable for everyone.
Antihistamines relieve most hay fever symptoms. However, some may cause drowsiness.
Nasal corticosteroid sprays are highly effective at reducing hay fever symptoms. They are the preferred option when symptoms are very bothersome, and for people who also suffer from asthma.
Decongestants relieve nasal congestion only, and are not suitable for all individuals.
Your pharmacist is there for you
If you're not sure what's causing your symptoms, talk to your pharmacist. They can help determine whether your symptoms are likely caused by hay fever or a viral infection, such as the common cold. They can also suggest the best medication or non-pharmacological measures to relieve your specific symptoms.
Pharmacists are allowed to prescribe medication for hay fever (allergic rhinitis), subject to certain requirements, which vary from one province to another. Speak to your pharmacist to learn more!
The information contained herein is provided for informational purposes only and is not intended to provide complete information on the subject matter or to replace the advice of a health professional. This information does not constitute medical consultation, diagnosis or opinion and should not be interpreted as such. Please consult your health care provider if you have any questions about your health, medications or treatment.